Frank Shines:  Lean Six Sigma; Author, Speaker, Military Veteran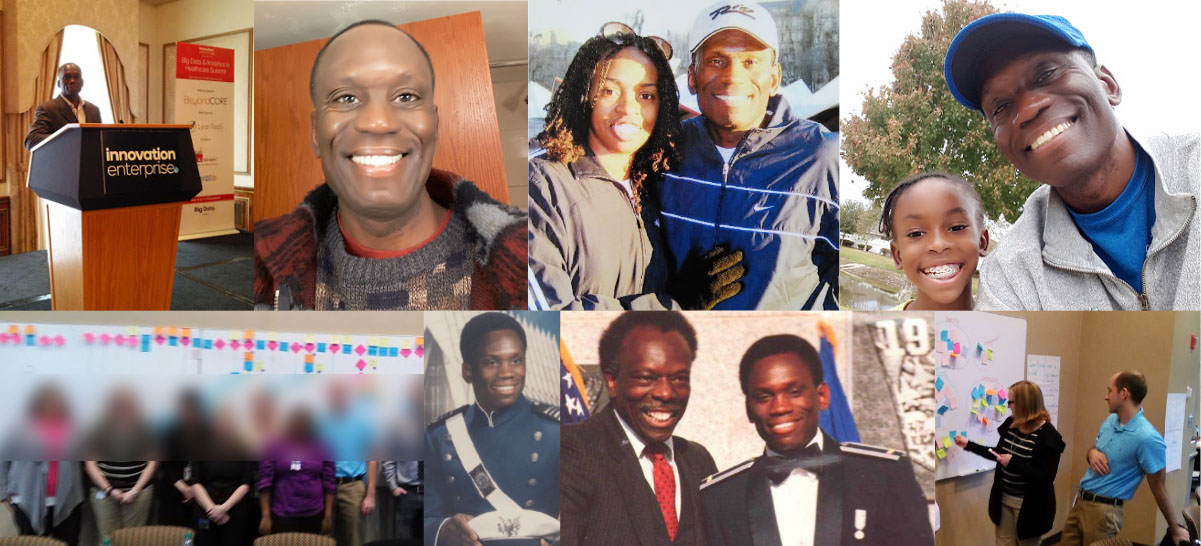 Sharing Knowledge, Wealth & Happiness with People Around the World
Frank Shines, also known as "Rio,"  is a former IBM Principal and Air Force Officer.  He has trained and competed with Olympic athletes, flown military jets and traveled the world as an award-winning business and technology consultant and executive with Ernst & Young, IBM and Pilgrim Software. Frank has lived abroad in Australia, Europe, the Azores Islands and Rio de Janeiro, Brazil, from where he gets his nickname, "Rio."
Frank Shines' New Book – Let in But Left Out: Leadership, Faith & Knowledge in the Age of AI, Coronavirus & Fake News
Frank worked around the clock during the coronavirus lockdown to complete his latest book, Let in But Left Out, which is now available on Amazon. Fake news can fool people, but not a pandemic. We seek a vaccine for a pandemic but what is the cure for an infodemic? Coronavirus is now accelerating tech trends and exacerbating social injustices.
Here is an audio excerpt from the chapter, "Transatlantic, Trail of Tears & the Rockies." In this chapter, Frank (who is a family spokesperson for the Colorado College Stroud Scholars — his mother was Vanessa Stroud) writes on the importance of family and historical reflection, chronicling the pioneering achievements of the Stroud family, from slavery and the Trail of Tears to the Olympic Trials and the Apollo moon missions.
In Let in But Left Out, Frank examines how America…
Let in Tech Disruption but Left Out People Transition
Let in Inequality but Left Out Upward Mobility
Let in Fake News but Left Out Critical Thinking
Let in Personal Gain but Left Out Collective Purpose
Frank Shines, now with RTI Surgical, is the former VP of CCS Medical and Director of Continuous Improvement and Analytics with Accredo, an Express Scripts company.  He is now working at the intersection of  AI-Powered Digital Transformation and biologics manufacturing, grounded in the proven principles of Lean Six Sigma Quality and Process Improvement.  The ideas and opinions here reflect those of Frank Shines and are in no way affiliated with his current or former employers.
With a background in Marketing Statistics, Sales and Operations functions for Hi Tech, Healthcare, Energy and Aero Space & Defense industries, Frank has worked at all levels of organizations from shop floor operations to the executive suite.
Mr. Shines has over 25 years of business leadership and consulting experience working with Fortune 500, Global 2000 corporations as well as tech start-ups and small and midsize enterprises (SME, SMB). He has advised military brass, government officials and business executives from Europe, Asia, USA, Canada and Latin America with a focus on disruptive technology strategies, organizational transformation, applied statistics (AI, Machine Learning, RPA, BI, Social Data, Big Data Analytics) and Lean Six Sigma business process improvement / automation.
Frank Shines has been published by John Wiley & Sons and is the author of two books. He has also reviewed and written introductions and  recipient forewords for author and Crosby Medal recipient Forrest Breyfogle's, Management 2.0, Leadership 2.0, Implementing Six Sigma, and Integrated Enterprise Excellence.
Frank is currently working on the second edition of "The New Science of Success."
 Frank Shines' Advisors and Mentors
Dr. W. Edwards Deming. Frank spoke with Dr. Deming three months prior to his 1993 death. He was inspired by Deming and Dr Yoshida to pursue a career of quality and applied stats with a focus on people and humanity.
Forrest Breyfogle.  Long time mentor,  friend and fellow ex-IBMer.  Forrest is one of the leading authorities on Lean Six Sigma and Advanced Statistics.  He is the founder and owner of Smarter Solutions
Dr. Mikel J. Harry.  We lost a great American on 25 Apr 2017…RIP. Co-Founder of Six Sigma and a Mentor.  Frank spent time with Dr. Harry at his Arizona ranch when he was working from his home office with ASU on the video recording sessions.  Frank later beta-tested those 1,200 Lean Six Sigma videos prior to the launch of MindPro.  His aim was to make Lean Six Sigma affordable to the masses, not just the elites, he told me.
Dr. Kevin Davis. Harvard MBA and PhD now Professor at the US Air Force Academy.  Dr. Davis  was Frank's Academic Advisor and commissioning officer while at USAFA
Dr. Daniel Denison. Countless successes with Organizational Change Management using the Denison Culture Survey and Action Plans. The most practical approach to people change and culture — Denison ties cultural attributes to top and bottom line results.
Umer Qureshi. Tech Advisor on Web, SEO, Mobile, RPA.  Frank is mentoring Umer on Lean Six Sigma and machine learning.
What's Hot:  COVID-19 Spurs Digital Transformation, $2 Trillion
Frank Shines is working at the intersection of AI hi-tech and healthcare. Digital Transformation through artificial intelligence (AI), machine learning, robotics and big data analytics is one of hottest topics in business today.  The $22 trillion dollar global retail industry is in freefall as Amazon unleashes wave after wave of digital disruption through e-commerce, AWS, Alexa speakers, mobile devices and media.  The majority of all Web and Mobile advertising dollars are swept up by Google and Facebook.  Global banking financial services and insurance executives are reeling from fintech startups from Silicon Valley to Boston. But these are only the initial placid ripples of a coming digital tsunami that will impact healthcare, manufacturing and other industries in the coming months and years.
PricewaterhouseCoopers estimates a $2 trillion economic impact from robotics process automation (RPA) digital transformation. The firm projects that 45% of work activities can be automated. Today, software / hi-tech, banking /financial services industries are leading this revolution, with healthcare and retail lagging, according to a joint KPMG, HFS Research study titled, the "State of Operations and Outsourcing 2017."
Coddling of the American Mind – Jonathan Haidt
Go to LetGrow.org for more practical help for parents and Gen Z. Also, take a look at Dale Carnegie's How to Win Friends and Influence People and John Stuart Mill's On Liberty.
Elon Musk, Space Force and USAFA as 'Starfleet Academy'
Not Since Alvin Toffler (Future Shock, PowerShift), has Someone so Lucidly and Entertainingly Captured the Future of Tech and Humanity:  Yuval Harari's Sapiens & Homo Deus: A Brief History of Tomorrow are Must Reads
Will.i.am Challenges Silicon Valley Elite to Invest in Inner Cities with Time and Tech Skills at 2016 Salesforce Dreamforce Event — AI for Everyone!