Frank Shines Clients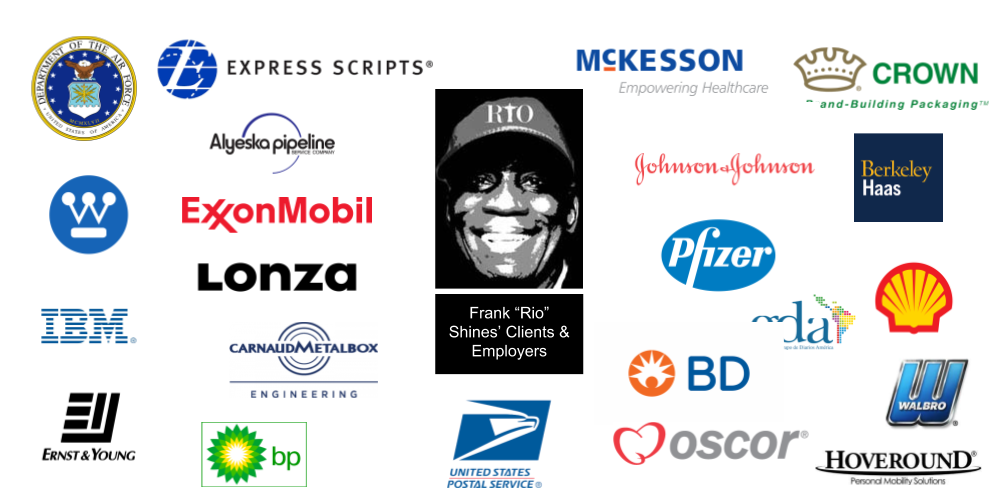 As IBM, Ernst & Young & Pilgrim Software consultant Frank Shines has worked with dozens of clients around the world
Clients: What They Are Saying
In my 40 years of manufacturing, Frank Shines is hands-down the best Lean Six Sigma facilitator and trainer I have worked with. – Mfg Mgr, FL
"Frank knows his craft and masters it."  – EVP, COO, Major Medical Company, FL
"The best training session we received all year!" – Executive, Exxon Chemical, Houston, TX
[Mr. Shines' book] "The New Science of Success strikes at the intersection of quality, global competitiveness and the future of the Internet. The book is packed with powerful ideas, real life examples and insights into the future of work in the emerging D.I.Y. Web 2.0 economy."  – Forrest Breyfogle, Author, CEO, Smarter Solutions
"The best project manager and consultant I have ever worked with." – Director of Quality Assurance, Major Medical Device Company, New Jersey
"His business ideas work. I am now a single mom with a successful enterprise, which has allowed me to put my young daughter through private school."   Judy, Ft. Lauderdale, FL
"Frank's ideas and insights into the technology and consulting professions were timely and relevant to our students." Professor, University of Michigan School of Business, Ann Arbor, MI
"Wow! What an inspiring story of achievement. Frank's inside knowledge on how the management consulting industry works had us all on the edge of our seats." – Program Director, UC Berkeley, Haas Business School, Berkeley, CA
Sample Client Projects
Problem: Life Sciences Industry (Major Pharma, Med Device and Biologics clients) seeking ways to eliminate FDA Warning Letters and reduce the costs of compliance associated with adhering to GAMP 5, CAPA, Quality Management Systems. Solution: Worked with CTO to develop .NET-based system to address all CAPA and internal and external Audits (Enterprise Quality & Compliance Management Systems). Result: Pilgrim Software added more than a dozen other quality system modules and is now the leading provider of quality managment systems for FDA regulated industries.
Problem: Fortune 20 healthcare client must implement new enterprise system to provide it a platform for growth that will scale rapidly and drive down costs per transaction in order to remain competitive in healthcare reform environment. Solution. ERP (SAP) system combined with process reengineering, organizational change and enhanced performance metrics. Result: Over four years, achieved 13 on-time, on budget projects with an average 3.6 (out of 4.0) user satisfaction for numerous SAP module roll-outs.
Problem: Global, multibillion dollar tech distributor sought to create a culture of continuous improvement based on data-based decision making. Solution: Global roll-out of a Lean Six Sigma continuous process improvement initiative. Result: Developed C-level executive governance model; trained executives and employees in USA, Canada, Europe, Latin America; created infrastructure, training and Lean Six Sigma certification programs and developed organizational culture change plan; rolled out first wave of strategic initiatives.
Problem: Major durable medical equipment (DME) client must cut cost of patient acquisition, improve sales funnel conversion rates and reduce time and cost associated with collecting and verifying patient medical documentation (e.g., clinical data, insurance, patient information). Solution: Pulled all external and internal data into a single, low-cost repository in order to see relationships across silos without incurring high software, hardware and personnel costs associated with a traditional business intelligence / data warehouse system. Approach: Used next generation BI, Tableau Software, to combine vast volumes of government, geographic, call center, Web, TV ad, direct mail, referral source data with operational and financial data to see how best to optimize marketing spend by identifying best performing lead sources and patient demographics; determined cost of leads, intakes and sales; compared conversion rates vs. cost of leads, et al; developed marketing spend optimization and salesforecasting models and analyzed overall revenue cycle and reimbursement processes; assisted with call center process improvements and reports.
Problem: Large industrial and retail supplier is experiencing rapid demand growth on thin profit margins so must find a way to scale operations without adding additional personnel. Solution: After determining that the bottleneck was in the marketing, sales and order setup functions, team focused on ways to streamline and automate these processes. In order for rapid decision making to take place in real-time while client was on the phone, needed to pull data from disparate systems into a single source. Approach: Drafted current and future state process flows, then developed custom Web apps for Purchase Orders (PO) and Sales Order (SO), integrated these apps with Zoho CRM. Next, used used Amazon Web Services to bring all ERP, Financial, Zoho CRM, Google Analytics, PO and SO data into BIME Analytics in order to create real-time dashboards that could be viewed inside the Zoho CRM system during the sales and order process while customer was on the call.
Client List
Aero & Defense:  Newport News Shipbuilding, United Technologies, US Air Force
Automotive:  Cascade Engineering, Chrysler, Ford
Energy:  Alyeska Pipeline, Aramco, ARCO, Cal Resources, Empresa Nacional del Petroleo (ENAP), Exxon-Mobil, Midcon Natural Gas
Healthcare:  Abbott Labs, American Red Cross, Becton Dickinson, CCS Medical, Gilead Life Sciences, Hoveround, Johnson & Johnson, Kyphon, McKesson, Pfizer, United Blood Services
Petrochemical:  Exxon Chemical, Lonza Chemical, Shell Chemical
Other:  American Society for Quality, Association for Operations Management, Crown Cork & Seal, Grupo de Diarios America, National Society of Black Engineers, Oracle Users Group, Purdue University, UC Berkeley Haas Business School, University of Michigan Business School, US Air Force Junior Officers Council (CGOC), US Postal Office
Partners
BIME Analytics.  It has been a pleasure working with this company. Rachel Delacour, Nicolas Raspal and the rest of the BIME team have hit it out of the park with this powerful, elegant big data solution:   Affordable Big Data analytics and data visualization made easy.  BIME is a Google BigQuery partner and is integrated with Google Analytics, SAP and Salesforce.com.
Salesforce.com. Marc Beniof and team have silenced the critics, proving decisively that real money can be made on solid business models that leverage buzz words like Web 2.0, SaaS and Cloud Computing. Salesforce's Dreamforce 2012 Conference attracted 90,000 participants — up from 45,000 in 2011.  The company reached $5 billion (USD) faster than any other enterprise software organization.  On Nov 18, 2015 WSJ reported that Salesforce raised its 2017 outlook as quarterly revenue jumped 24%.
Zoho. This amazing hi-tech offers the most affordable and comprehensive suite of online web applications targeting small businesses to help them increase office productivity and collaboration.
BDPA. The premiere technology professional association advocating for diversity in tech for more than 30 years.
Computer Mentors Group. Founded by Ralph Smith, this organization has done more with less than any non-profit with whom I have worked. They place a focus on business technology for at-risk youth in the Tampa Bay area.